Based on many requests I have recently started selling photographic prints. At this point, I am selling prints made from metallic Fujifilm Pearl paper, metal, and acrylic. These aren't what most people are accustomed to when they think of photographic prints so i wanted to make a blog post and explain why I love these mediums so much and why I think you will too.
First let me say, printing my photos has been an eye-opening and exciting process. Printing forces a photographer to take even greater from taking the picture through post-processing and exporting the file as a finished photo. Even the smallest mistake or oversight becomes magnified and irreversible once printed. I take great care when preparing the photo for printing. For example, color calibrating my monitor, adding the International Color Consortium (ICC) profile from the print lab, and ensuring the image size is sufficient for the size of the print.
Before I ever make a photo available for sale, I order a test print and inspect it to verify there are no flaws that may not be obvious in the digital file.
Now that the behind the scenes process is out of the way, let's talk about the print mediums.
Fujifilm Pearl paper

Metal
Fujifilm Pearl Paper
This paper is designed exclusively for digital output with a unique pearl-like, silvery iridescent appearance, thick base and high stiffness. This paper has a super high gloss with a slight metallic look to them. (Read more about FujiFilm's Pearl Paper.)
Metal
Metal prints represent a new art medium for preserving photos by infusing dyes directly into specially coated aluminum sheets. The brilliant high gloss surface creates unsurpassed detail and vibrance. The ultra-hard scratch-resistant surface is waterproof and can be cleaned easily – just avoid direct sunlight. They are the most durable and longest lasting print option.
Metal prints come ready to hang so no need to buy a frame. A float mount hanger is attached to the back of the print and will float the print 1/2-inch off the wall when hung.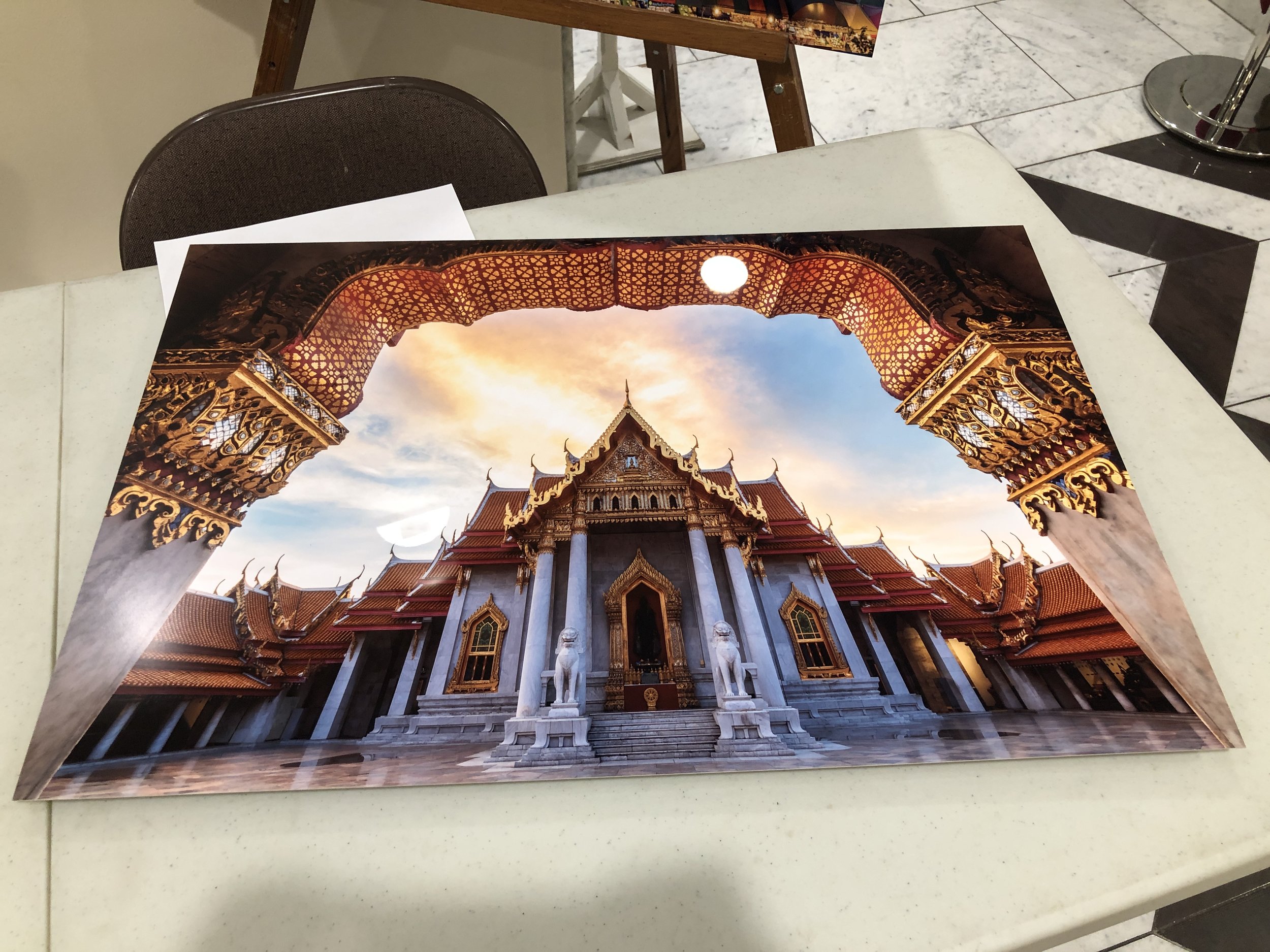 Sizes
I am selling three sizes with a standard aspect ratio of 2:3. I can create other sizes though so contact me directly, and we can work out your specifics.
To compare the sizes, I took a photo of three acrylic prints with the largest at the hanging on the wall and the smallest on the ground to give you an idea of what each size looks like.
For shipping outside of the United States please contact me directly.